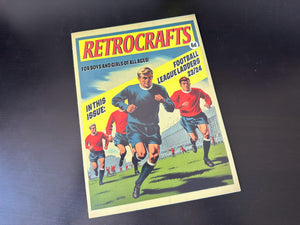 Retro 1960's style England & Scotland Football League 2023/24 Season League Ladders
RetroCrafts is back for the 2023/24 Season!
Our best ever Fan Made, Hand Made League Ladders and Team Tabs. The press-out tabs are printed and precision cut on white 350 gsm card and come complete with a sturdy 9.6" x 9.05" glossy ladder card.
This Retro Style League Ladders set includes all the teams from Tier 1 - 4 of the English & Scottish Football Leagues. See our other items for our complete range of League Ladders!
This is a 2023/24 League Ladder presented in the style of the League Ladders of the 1960's! This 1960's style set includes all the teams from the top four tiers for both England and Scotland. The tabs are designed to replicate tabs issued by boy's football papers of the day, so expect the Division headings to reflect the period and your team's colours to be of the era. The set includes a ladder card inspired by the league ladders from the 1964/65 season - We hope this set brings back memories! Please note that the ladder cards are headed '1st Div' to '4th Div' to maintain the look and feel of the vintage ladders.
Fast and Free Postage within the UK. We use premium packaging to ensure your purchase arrives with you in perfect condition.
No quibble returns - your money back if you are not entirely satisfied.
Overseas Postage from £3.00 to £4.30 depending on region. This is for Royal Mail International Standard 3-7 working days. 
Terms & Conditions -
These League Ladders are produced based on the best information available at the time. However, the football authorities may from time to time alter the structure of their leagues. Clubs may also alter names, or ground details. All of which may render our ladders incorrect. We will attempt to remedy these situations as follows:
Where an error is our fault, i.e we have published incorrect or outdated information, we will replace the item on request with a corrected item - no quibbles.
Where the error is beyond our control, ie the details were correct when we published them, but subsequently changed, we will issue a 'fix pack' which will be free of charge to the customer on request excluding the cost of postage. Where the customer would prefer a full replacement product (collectors etc), we will share the cost of this. in that case, the product will be replaced for half its original cost with free postage, and the customer will not be required to return the original item.
Thank you for your understanding.